How Transit-Oriented Developments Can Create Cities for People
According to the UN World Urbanisation Prospects, more than 50% of the world's population is already living in cities, a figure that is projected to increase to about 67% by 2050. A World Bank study also projects a growth in India's urban population from 34% in 2017 to 40% by 2030.
This frenetic pace of urbanisation is rapidly changing the world as we know it. Urban centres are already under a lot of pressure to grow to fulfil the ever-increasing needs of their growing populations. In fact, it is estimated that between 2018 and 2030, the global urban footprint could increase by an unprecedented 80%.
How Are Cities Responding to Rapid Urbanisation
Currently, most cities are expanding by growing outwards. However, if this trend persists, it can lead to increasingly detrimental effects such as strain on natural resources, worsening spatial inequalities, increased dependence on personal vehicles, traffic congestion and pollution. Therefore, it is imperative that we rethink and re-envision our cities so they work better for people and the environment.
How Transit-Oriented Development Can Help
One such model of urban planning that addresses these issues is Transit-Oriented Development. Although it may sound contradictory, Transit-Oriented Developments (TOD) are actually people-oriented developments. TOD refers to a compact, walkable, pedestrian-friendly, mixed-use community connected to other parts of the city via high-speed train networks that reduce the dependence on motorised vehicles for transportation.
Here are some key features of Transit-Oriented Developments:
1. Walkable and Cyclable
TOD neighbourhoods have dedicated walkways and paths for cycling with minimal obstructions, which are supported by high-quality pedestrian infrastructures such as seating, shade and toilets.
2. Robust Public Transport Systems
A high-density network of transit corridors is created and accessible to cyclists or pedestrians, thus reducing the need and dependence on cars.
3. Shifting Incentives
By reducing parking infrastructures, enabling effective pricing of parking, and dedicating lesser space for cars on roads, people are encouraged to shift to walking, cycling and public transportation.
4. Densification
Creating a high-density development with commercial and residential uses within a few kilometres of the local rapid transit station frees up land and enables the creation of a green, public realm.
5. Creating Mixed-Use Spaces
A mix of residential and non-residential spaces reduces the need for travelling long distances to access facilities and activates the public spaces.
6. Compact Development
A mixed-use, high-density development is planned compactly so that people can access work and education within their neighbourhoods, reducing travel times and resulting emissions.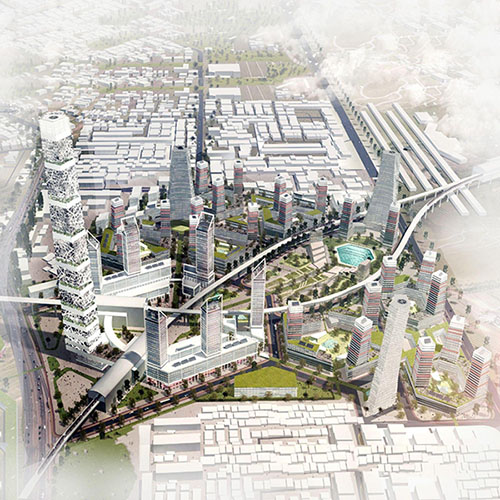 Aerial View: East Delhi Hub, New Delhi, India (Render); Master planning by C P Kukreja Architects in association with IDOM, Spain
One of our upcoming projects, the East Delhi Hub in New Delhi, India, envisions a smart and sustainable transit-oriented development that responds to the existing transportation networks in the vicinity.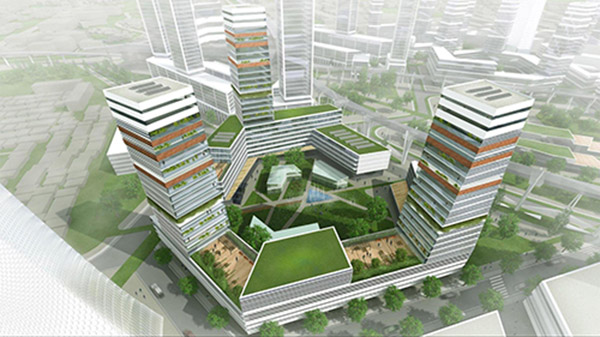 Interconnected high-rise developments interspersed with green spaces: East Delhi Hub, New Delhi, India (Render); Masterplanning in association with IDOM, Spain
Located near a major bus terminal, the mixed-use, high-rise development aims to create vertical neighbourhoods. This would free up land at the lower levels, which can be converted into landscaped realms for the people. The commercial developments are lined with squares and plazas, resulting in an active and vibrant public space.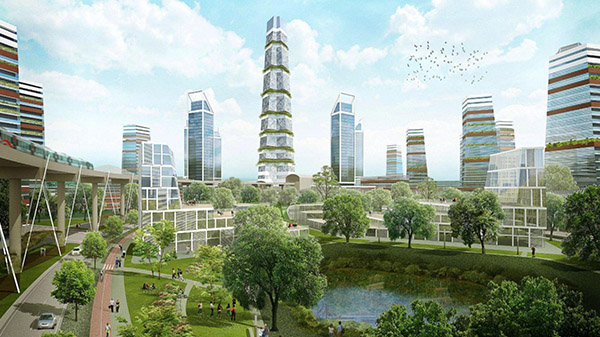 The public realm with a view of the skyline: East Delhi Hub, New Delhi, India (Render); Masterplanning in association with IDOM, Spain
Why Transit-Oriented Development is the Future
In a recent study by NITI Aayog, it was found that only 32 out of 1000 people in India own a car and over 60% of the country's population relies on public transport, walking, or cycling to travel. Yet, most Indian cities are planned around cars rather than people. In addition to pollution, emissions and traffic congestion, such an approach towards city planning leads to vast inequalities, especially when it comes to people's access to opportunities.
Transit-Oriented Developments bridge this gap by providing opportunities for work, travel, and play within neighbourhoods. They stimulate the local economy and revitalise urban areas, thereby also improving the quality of life. The success of Ahmedabad's BRTS system and New Delhi's metro system, which lay the groundwork for a comprehensive TOD approach, show that TOD is the future of people-centric urbanisation.