From the CPKA Book: Executive Vice President Sameer Divekar on Sustainability & India
The following is an extract from our book Five Decades of India's Built Environment co-authored by Dikshu Kukreja and Arunima Kukreja. The book is now available for sale on Amazon.
These days, everyone is claiming to have found the techniques to reduce demand and innovate products to generate clean energy. Many declare themselves as the most environment-friendly country, product or company. There are hardly any advertisements which do not claim to be non-environment-friendly or non-innovative. However, most of these claims are far from reality and offer very expensive solutions which are not financially sustainable for developing countries like India.
It is ironic that solutions, which need to be contextual, are bought from countries or companies that have a completely different context. Rather than looking for answers from our history, our available resources and our way of life, which have a proven record of sustainability in our climate, we are looking for answers from countries or companies that are completely different from us in all of these aspects. This trend demonstrates a lack of belief in our own historic knowledge and a lack of confidence in our capability to adapt that knowledge to current needs. It is not wise to ignore available knowledge and blindly follow what is being sold to us.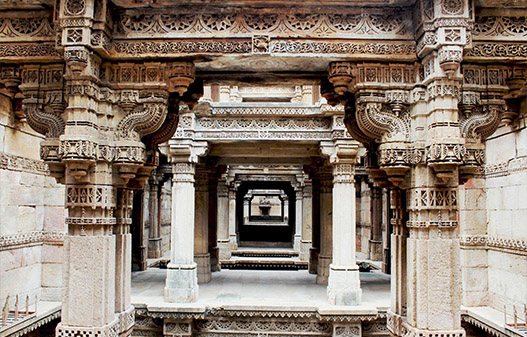 Adalaj Stepwell in Ahmedabad, India: Traditional, five-storey-deep stepwell used to hold water for a wide-variety of uses. It also serves as a cool sanctuary for travellers, especially in summer.
There is no denying that learning from our history has some limitations. The scale, function, use, comfort parameters, construction materials etc. are very different from those used historically, but they still offer relevant fundamental principles. Orientations specific to location, wall thickness and openings related to direction, allocation of functions as per wind directions, shading systems in accordance with sun movements, building proportions linked to construction materials, food habits and clothing related to outdoor temperatures developed historically – each of these considerations still provide relevant starting points for design. The need of the hour is to wisely use applicable historic principles, integrate them with latest technologies and develop well-balanced solutions.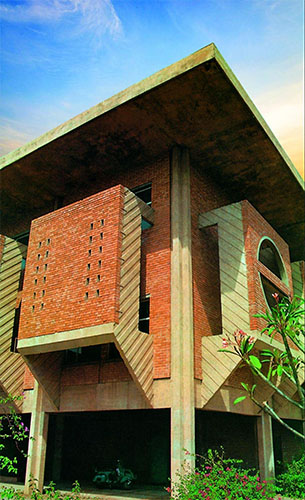 Computer Centre at the Jawaharlal Nehru University in New Delhi, India: The overhangs and punctured screen walls lower heat gain and facilitate air flow to ensure quality functioning of large computers.
CPKA has a rich history of designing climate responsive buildings. Our founder, the late C.P. Kukreja, laid a strong foundation, demonstrating how to utilize historic principles in building design. Today, we at CP Kukreja Architect are determined to effectively build upon this foundation and develop it further to make it effective in the context of the 21st-century world. To that end, we have established an Innovation Studio at CPKA to carry out research and development in the field of sustainability, the first time this has been done in Indian architectural history. We have a dedicated team equipped with the latest tools and technologies that ensures that each building designed by us goes through a rigorous process of brainstorming, development, implementation and validation of sustainable principles. In the years to come, I'm confident that we will be able to significantly contribute to shaping a sustainable and nature-friendly environment for India and for the planet.